Made of wood, steel or concrete, roof decking is a layer that protects the roof from the elements. Once installed, it becomes a vital part of the roof's support structure.
In this article, Les Couvreurs Duro-Toit explain everything you need to know about roof decking for construction or renovation purposes.
Decking: a vital part of the roof
Roof decking is part of a building's structure that is placed underneath the roof covering, like the elastomeric membrane that is commonly used throughout the province of Quebec.
The decking acts as a support structure for the roof covering, which can be installed by specialists. Placed between the frame and the covering, roof decking helps insulate the roof and strengthens the entire structure. That's why it needs to be carefully monitored for signs of deterioration.
In practical terms, roof decking is a set of panels that are placed directly on the frame. It completes the roof structure by filling in the spaces in the frame so that the roof covering can be installed according to provincial standards.
Roof decking can be installed on a pitched or flat roof that will require a covering.
Why install roof decking?
As mentioned above, roof decking plays a vital role in supporting the roof covering and is an integral part of the building's structure. Without it, it would be impossible to install the waterproofing system, leaving your roof exposed to inclement weather such as rain, snow and heat waves.
Makes the roof more solid
In the 60s, residential buildings had roof decking made from wooden planks. Although wood is certainly not in short supply in Quebec, use of the raw material has declined in favour of engineered wood products like OSB and plywood.
These materials are thinner and lighter, making them easier to install on the frame while still providing added strength and solidity to the entire structure.
With roof decking in place, roofers can easily install waterproofing.
Extends the roof's lifespan
Solid decking can improve a roof's durability and by extension, its lifespan. Conversely, poorly-executed decking can have a negative effect on the entire structure, particularly since the roof covering is installed on top of it.
That's why roof decking requires professional installation and its thickness is carefully regulated to ensure best results.
Having strong, durable and well-installed roof decking is crucial for a solid roof. That's why roofers always check the condition of the decking during inspections and renovations and change it if necessary before updating the roof covering.
Protects against moisture
In addition to providing stability, roof decking also helps protect the structure against moisture and the accumulation of ice and snow.
If moisture gets into the roof, it can affect its structural integrity and cause significant damage that can sometimes only be seen by thermal imaging inspection. Often, the only way to fix the damage is to replace the roof entirely, which can prove very costly.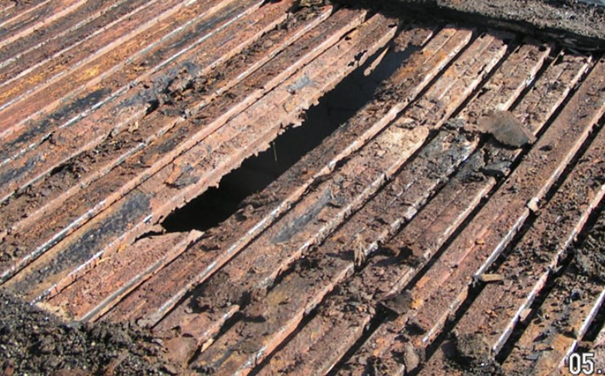 Install your roof decking with Les Couvreurs Duro-Toit
Roofing requires special expertise, and installing roof decking is no exception. Since it is such a vital structural element, installing it properly is crucial for the stability and durability of the roof as a whole.
That's why it's important to contact professionals like Les Couvreurs Duro-Toit, who will make every effort to install your decking flawlessly and in accordance with current regulations.
Contact us today to benefit from our expertise for all of your roofing construction or renovation projects in Montreal and the surrounding area.
More posts