When buildings have a conventional flat roof (with insulation on the deck), it can be difficult to determine with the naked eye whether the roof is sound or damaged. This is why today's roofing experts use thermal imaging, an infrared technology that helps reveal defects.
The experts at Duro-Toit explain everything you need to know to help you understand this inspection process and its benefits.
What is thermal imaging inspection?
Before converting your pitched roof into a flat roof, you have to know how much it will cost and the constraints involved. One of the most well known constraints is related to the difficulty of detecting water and air infiltrations. This is why roofing inspectors perform a thermal imaging inspection to ensure the good condition of the roof being inspected.
Thermal imaging is a technology that uses infrared thermal imaging cameras to perform an internal and external inspection of the roof based on temperature differences. This method makes it easier to pinpoint damage and leakage.
If you want to guarantee the condition of your roof before renovating it, you should perform a standard inspection twice a year, one of which should be done to identify any defects before the winter season.
Why do a thermal image inspection of your roof?
Thermal imaging inspections are an important part of long-term roof maintenance. Water infiltration and high moisture levels cause damage that can compromise the integrity of the roofing system. To extend the lifespan of a flat roof, thermal imaging and monitoring the condition of the materials under the waterproofing are indispensable.
Besides preventing all risks of moisture, thermal imaging also plays a role in reducing roof repairs and in roof maintenance. When you invest in this type of infrared inspection service, you will save on the cost of your renovation. You can find and replace defective materials with pinpoint accuracy!
You will also be able to track the overall condition of the roof and any abnormalities, while also monitoring and evaluating energy costs. Sometimes, an overconsumption of energy and heating systems can lead to a water infiltration or increased moisture. Fixing these defects before they become more problematic can help you save money on both your roof and your energy consumption.
How does thermal roof inspection work?
Home inspectors use infrared cameras to survey the flat roof of a residential or commercial building. The cameras project infrared waves over the entire structure to generate thermal images containing temperature differences. Moisture and water-based matter in general diffuse a specific thermal mass. When the camera passes over them, it will detect a hot spot which will often appear in red on the images.
The interesting thing about this technique is that in addition to determining that there is a problem in the roof, it also shows the extent of the problem. In other words, the greater the moisture infiltration, the more extensive the spot, and vice versa.
Once the images are generated, roofing experts write up an inspection report or thermographic analysis that includes all the information and data collected during the inspection. The report includes information on the extent of the damage and its nature, but above all, recommendations to be implemented in order to preserve the integrity of the roof or a total renovation for the safety of residents or customers.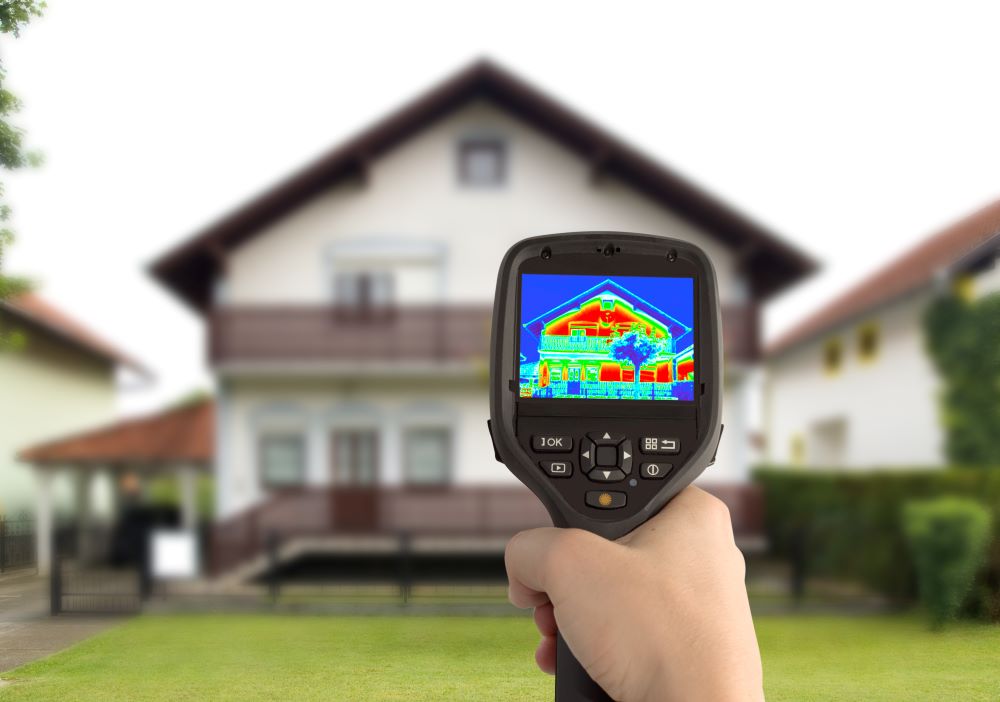 What are the benefits of a thermal imaging roof inspection?
Thermal imaging inspection makes it possible to inspect the general health of your roof in order to prevent water infiltration, check the condition of the insulating materials or detect heat loss.
However, while these benefits are undeniable and reflect the key elements of a roof inspection, there are others that may make you take the plunge:

– Detect plumbing problems
– Detect heat loss and energy overconsumption
– Highlight any damages and their extent
– No need to take apart sections of your roof for inspection
Hire Duro-Toit to perform a thermal imaging inspection on your roof
Thermal imaging requires the expertise and knowledge of expert roofing companies to accurately determine the condition of your roof. Calling Duro-Toit is the best solution for infrared inspection.
Based in Montreal and operating throughout Quebec, Duro-Toit is specialized in residential flat roof repair and commercial roof repairs. We offer a flat roof inspection service and our experts are leaders in roof inspection for maintenance and pre-renovation checks.
Ask our experts for a quote and have confidence in our services for the maintenance and installation of your roof.
More posts