Working at heights safety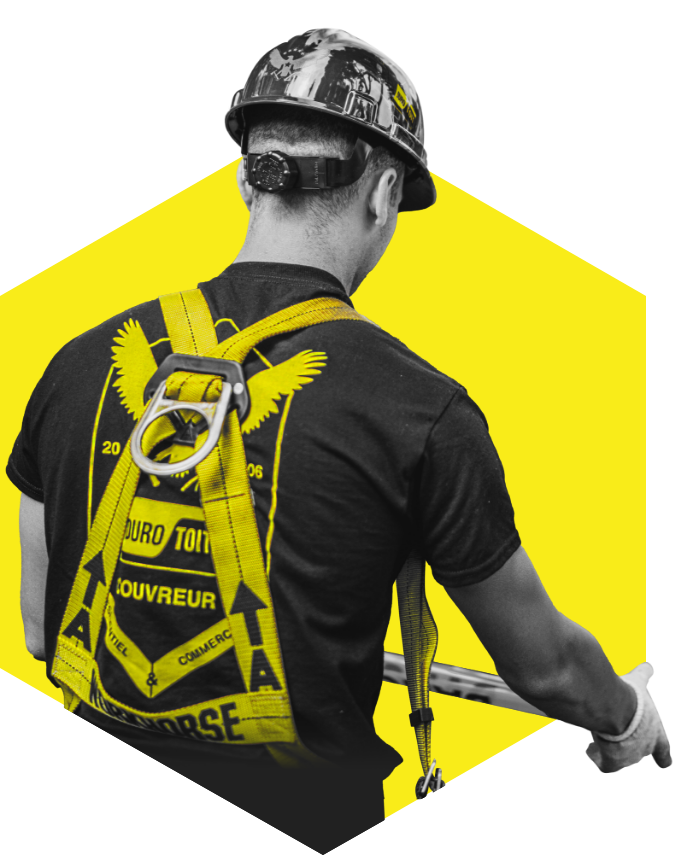 Safety at work, a priority for Les Couvreurs Duro-Toit
Les Couvreurs Duro-Toit ensure the safety of their employees in the workplace. We undertake all means necessary to prevent and control the risk of accidents. We are aware that working at heights carries risks that must be eliminated at the source. So, our employees must implement effective safety measures. They must be familiar with the prevention program implemented by Les Couvreurs Duro-Toit and they must follow it.
Each team member learns to detect, analyze, prevent, and reduce the risk of accidents on construction sites. This prevention ensures their physical safety and that of their co-workers, as well as all bystanders. This collective commitment has resulted in Les Couvreurs Duro-Toit being rated in the elite category of the APCHQ accident prevention mutual.
Awareness
Our employees know the risks of roofing and working at heights. They have the information and the tools necessary to work diligently in accordance with work safety regulations.
Identify
We train employees to identify potential risks on construction sites. This way, the danger is eliminated at the source. Working at heights becomes safer for the team, the suppliers, and bystanders.
Relying on equipment
We strive to provide the appropriate equipment so that work at heights is safe. At all times, employees have access to safety harnesses, lifelines, railings, gloves, safety glasses, helmets, etc.
Target: zero tolerance
Les Couvreurs Duro-Toit ensure that prevention is a team mission. When dangers are eliminated, no employee is at risk. That is why we are always on the lookout for better safety protocols.
Working safely
Working at heights requires means of prevention which also extend to both the environment and the people nearby. Our roofers define a security perimeter before each project. If necessary, they can reroute traffic by installing sidewalks cones, road signs, and other prevention tools. Passersby and occupants are thereby notified of the work in progress. In addition, our team ensures compliance with safety criteria at work, namely:
Electrical safety.
Handling of materials.
Fall prevention.
Security perimeter of the work zone.
Scaffolding and guardrails.
Individual safety equipment.
If you have an emergency or a question about your roof, contact our experts!
Do you have an emergency or a question about your roof? No need to worry! Our roofers are here to help. With years of industry experience, our team of professionals can answer all your questions and solve all your roofing problems, from emergency repairs to regular inspections and complete replacements.
Training for working at heights
Les Couvreurs Duro-Toit actively strive to achieve zero tolerance. Each week, the Security Officer visits the construction sites to inspect the premises. He takes the situation in hand if he has doubts about the safety of our employees or our suppliers. The officer is also responsible for training the employees on various practices of health and safety at work.
If you plan to change or partially repair the covering of your flat roof, entrust your work to our experts. No matter how complex your project, they will optimize your roofing system and protect your investment. In the end, you will not think about the work done, but rather appreciate the considerable improvement to your flat roof.